Cathy Smith's First Film: HOLLYWOOD MEETS THE SIOUX NATION
The summer of 1989, a group of Hollywood filmmakers came to town. They were doing research for a film about the Sioux and visited some of the Indian art galleries that I did restoration work for. I got a call one afternoon from one of the galleries asking if I was interested in meeting these people for dinner.
I was. The production designer and costume designer, both from Hollywood were under a severe time crunch and obviously in over their heads. They grilled me about what I knew and then handed me a small paper back book, saying, "Read it tonight. We will be at your studio tomorrow at ten." The title of the book was Dances with Wolves.
I read the book that night, finding dozens of historical errors and mistakes. I thought, how will this ever make a decent movie? And who is Kevin Costner? I called My Lakota Mom in South Dakota to ask her advice, should I work on something like this? Would the people like it? She laughed, the casting director had already been to Eagle Butte and hired her, the kids, and most of our relatives! "Yes," she said, "You have to make us look good."
The next day, Hollywood invaded my studio, spending ten days with me, making use of my extensive library of museum catalogs and ethnological books, and my slide library of museum artifacts. We designed the look of the costumes and props in those ten days, I was hired as consultant and costume maker, and they went back to Los Angeles.
I was given ten weeks to make over sixty pieces, the outfits of the principal native actors, all in duplicate. My daughter Jennifer Jesse, who was 15 years old, my friend Michael Lekberg, a good beader from South Dakota, came to work for me and I hired two other people just to cut fringe. The first dilemma was where to find six hundred deer hides that looked like brain tanned hides and by tomorrow. Then how to do quillwork on the warshirts, leggings and dresses, quickly. I invented a faux technique that looked great on film.
I prayed, we held regular sweats and enlisted the aid of the Grandfathers and hides came. We worked fifteen to eighteen hour days, seven days a week and by the end of the ten weeks, everything was ready – from feathers to moccasins.
The pay was $500 a week, but that was more money than I had ever made in my life; I had no idea what the wage scale was in Hollywood. I had been told that I would not be coming to the set, just get the costumes made and so I was worn out by the time the wardrobe trailer came to pick up the costumes and take them to South Dakota. Twenty four hours later I received a phone call from the designer in South Dakota, "How soon can you get here?"
"I'm not coming," I replied, "I haven't had a life in ten weeks, and I have to get things in order, see my boyfriend, pay bills, and besides that, I had not planned on it, since you made it clear I would not be coming."
"We have screen tests in two days," she said, "And we don't know how the breechcloths and leggings are worn, how to tie on a feather, we need you to do the fittings."
In the end, Jennifer and I went to South Dakota. She spent the summer doing quillwork and working on set and had the experience of her life. My Indian family were overjoyed to have us there and we became the bridge between Hollywood and the Lakota .people. Hollywood has been known to run over an ethnic people and sometimes be very unkind to the extras.
Of the 235 people on the movie crew, I was the only one with real Lakota experience and knowledge. I was called to show the set decorators how to pitch the tipis, the props department used my knowledge, hair and makeup picked my brain. And Kevin Costner called me into his wardrobe trailer at four am, many a morning, to ask my advice about a scene. He would usually say, "When you make your movie, you can do it anyway you want, but this is my movie." But in the end he usually took my advice. That is how I got credit as technical advisor as well as costumer.
I was responsible for building and maintaining all the native costumes, fitting the actors, and keeping continuity on set. Whenever an Indian was in a scene, I was there, making sure everything looked right, that no underwear were peeking out, a bra strap showing, a forgotten wrist watch worn. I took photos of each actor in each scene and made a book, a 'bible' of continuity, so that when we shot the next scene, days or weeks later, everything matched. A film is never shot in sequence. At night we had to scrape gumbo off hundreds of moccasin soles, wash breechcloths somewhere out on the prairie, and maintain hundreds of costumes, labeled and tagged with each actors name. Our location was fifty miles from town in the middle of a 65,000 acre buffalo range..
I remember it all in the glow of golden hour -the one the camera was always waiting to capture: the cottonwoods along the Belle Fourche River richly glimmering yellow and orange, women scraping buffalo hides staked among the lodges, horses nickering, the smell of buckskin and woodsmoke, my Lakota brother throwing his head back and laughing as the children played in the river, my Mom framed in the tipi door, in the buckskin dress I made for her. It was a moment in time that widened a crack in the universe, that let us to slip back into a memory of better days and reside there for a while, feeding our souls and basking in the love of our ancestors.
After five months on location in South Dakota, the movie was wrapped. So many moments had been like seeing a vision: A buffalo hunt with thousands of animals galloping across the plains; the buffalo dance at ten degrees below zero – warriors clad only in buffalo bonnets, breechcloths and warpaint; The Porcupine Singers singing old time Lakota songs. It had been magical.
That was my first film experience and the best of all. Since then I've worked on dozens of Westerns and made hundreds of Native costumes, all of which had to attempt to reach the bar set by Dances with Wolves.
My second film, 5 months following Dances with Wolves, was the 6 hour mini-series, Son of the Morning Star. I won an Emmy for Costume Design, the First and Only time that Native American costumes have won an Academy award.
I continue to design for good movies and I have the only rental stock of authentic Plains Indian costumes. At this stage of my career, I am very judicious about what jobs I accept.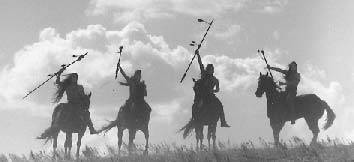 COSTUME DESIGNER • Historical Consultant
20 A Summer Rd. santa fe, nm 87506
505-470-6650
medicinemountain@gmail.com
cathyasmith.com
NEWS OF THE WORLD
Feature
KIOWA PROPS
THE COMEBACK TRAIL
Feature
INDIAN SPECIAL COSTUMES & PROPS
THE BALLAD OF BUSTER SCRUGGS
Feature
INDIAN SPECIAL COSTUMES & PROPS
WOMAN WALKS AHEAD
Feature
INDIAN SPECIAL COSTUMES & PROPS
HOSTILES
Feature
INDIAN SPECIAL COSTUMES & PROPS
THE JOURNEY OF PRINCE MAXIMILIAN
Docudrama
COSTUME DESIGNER
FIRST NATIONS
Miniseries
COSTUME DESIGNER
COMANCHE MOON
Miniseries
INDIAN SET COSTUMER, Made Hero Indian Costume (V. Ramsey CD)
SERAPHIM FALLS
Feature
SET, Made special hero costumes (Deb Scott, Designer)
JEDEDIAH SMITH: TAMING THE WEST
TV
COSTUME DESIGNER (Chris Eyres, Director)
INTO THE WEST
Miniseries
CONSULTANT to Production Designer (Marek Dubowrowski)
DON'T COME KNOCKING
Feature
KEY SET COSTUMER (Sam Shepard & Wim Wenders)
TRISTAN & ISOLDE
Feature
KEY SET COSTUMER (Kevin Reynolds, Director)
LOZEN, APACHE WARRIOR WOMAN
Documentary
COSTUME DESIGNER
THE MISSING
Feature
Made Principle Apache costumes & props (Julie Weiss,CD)
RIDIN' DOWN
Feature
COSTUME DESIGNER
ALL THE PRETTY HORSES
Feature
Made special costumes for Penelope Cruz
GUNFIGHTERS OF THE WEST II
TV
COSTUME DESIGNER
EAST MEETS WEST
Feature
COSTUME DESIGNER (Kihatchi. Okamoto, Director)
CRAZY HORSE
Miniseries
CONSULTANT to Production Designer (Carry White)
BUFFALO GIRLS
Miniseries
Made hero costumes (Van Ramsey, CD)
WILD BILL
Feature
Made Principle costumes ( Dan Moore, CD)
THE DESPERATE TRAIL
Feature
KEY SET COSTUMER (Sam Elliot)
LIGHTNING JACK
Feature
KEY SET COSTUMER, Made Indian costumes
LEGENDS OF THE FALL
Feature
CONSULTANT, made Native costumes
GERONIMO
Feature
CONSULTANT, SET COSTUMER, Made Hero Indian Costumes (Dan Moore, CD) (Walter Hill, Director)
ON DEADLY GROUND
Feature
Made Steven Seagal's native costumes
SILENT TONGUE
Feature
Made Indian costumes (Van Ramsey, CD; Sam Shepard, Director)
SON OF THE MORNING STAR
Miniseries
EMMY AWARD: COSTUME DESIGN
DANCES WITH WOLVES
Feature
SET COSTUMER, CULTURAL ADVISOR, made Indian costumes