The ambiance of an historic NM trading post has recently been restored to the 75 year old Nambe Trading Post.
The new curator, Cathy Smith, Emmy award winning costumer (of Dances with Wolves and 35 other Westerns) has brought back the charm and authenticity of this historic location. Her partner is Jennifer Jesse Smith, highly collected jewelry designer and silver smith
Movie costumes from the award winning Westerns Smith has costumed accent the collection of Navajo weavings – antique and contemporary, pueblo pottery, Zuni katsinas, and old pawn jewelry, as well as fine jewelry, paintings, & micaceous cookware by local artists working in traditional styles.
Moccasins, craft supplies, antique Venetian seed beads and buckskin are available as well. Classes are offered in beadwork, moccasin making, pueblo pottery, & bow making.
Tour groups are welcome: Smith offers Gallery tours and talks, catered luncheons on the portal, and artist demonstrations and workshops.
Come spend an afternoon in the agricultural village of Nambe Pueblo, relax with a cold drink on the portal, and experience a uniquely regional shopping experience, handpicked by Cathy Smith – from the best of Hollywood's Westerns and the finest local artisans.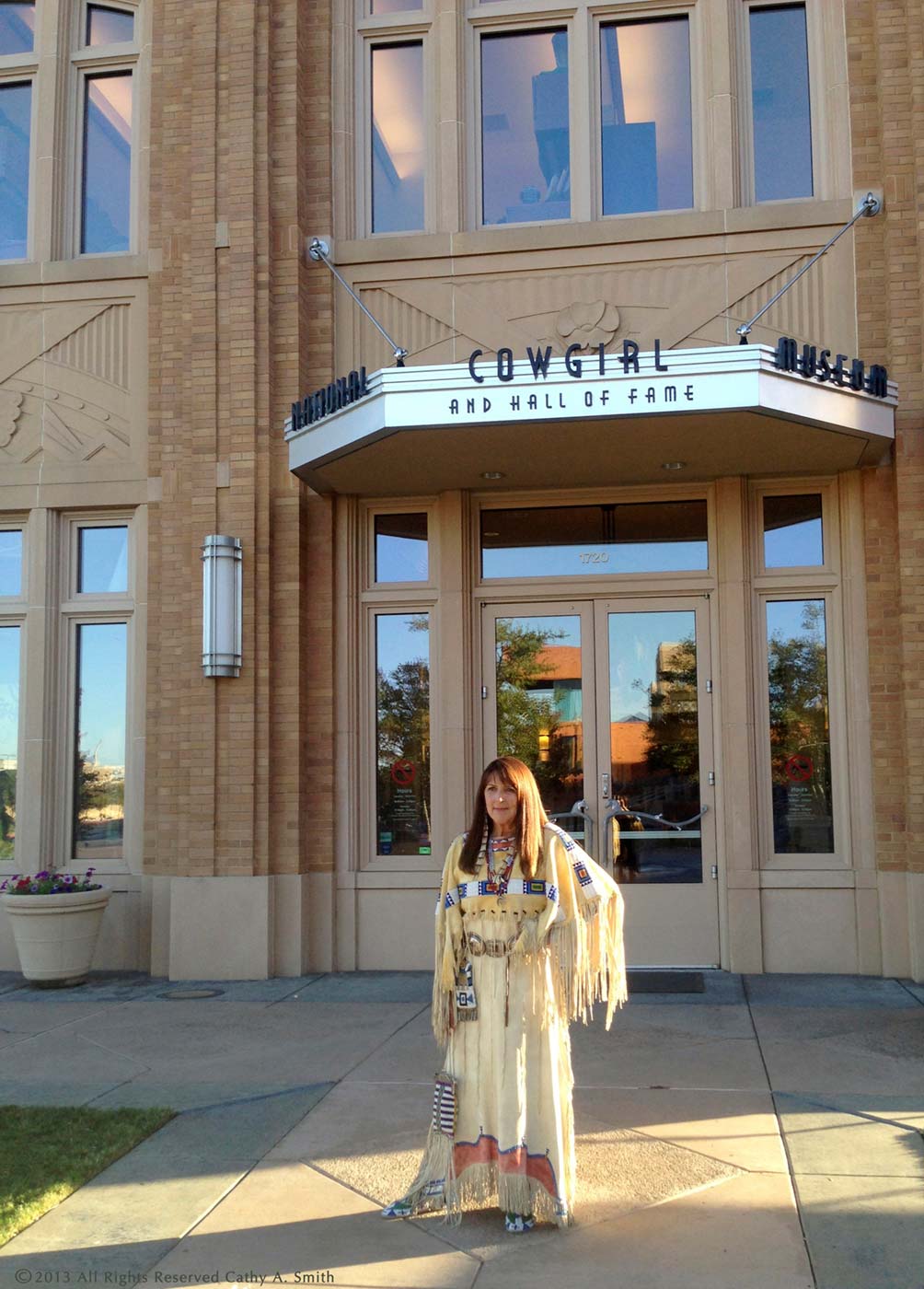 Cathy Smith, artist, historian and scholar of the American West, is best known for her authentic costumes in films such as Dances with Wolves, Comanche Moon, Geronimo and Son of the Morning Star – for which she won the Emmy for Excellence in Costume Design. She is also a 2013 inductee into the National Cowgirl Museum & Hall of Fame.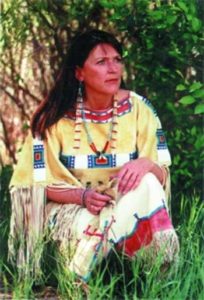 Growing up on a ranch in western South Dakota, bordering two Sioux reservations, led to her relentless pursuit of authentic, traditional Native American art forms, design, and techniques – which have become a much sought after commodity for everyone from museum curators to international collectors to Hollywood producers.
Cathy has spent her lifetime participating in the ceremonies and cultural life-ways of relatives on the Cheyenne River Reservation and refining her skills in the sacred art of porcupine quillwork
"Maintaining these traditional arts is imperative as they are a part of our American heritage in danger of being lost. Not only are they beautiful and useable, but when made with integrity, they are imbued with power & spiritual meaning."
Cathy lectures on the art & culture of the Western Plains at museums and events, from the Smithsonian to the Eiteljorg. She has exhibited at the National Cowgirl Museum in Fort Worth and the Smithsonian, among others. She restores original artifacts for museums & collectors and creates custom clothing and accoutrements not only for film and museums, but for clients worldwide.
Currently she is painting the Plains Indians she loves and knows so well, trading buckskin & sinew for oil & canvas, capturing the soul & essence of her Northern Plains ancestors.
Cathy has a studio in Nambe, NM and in the Black Hills of S.Dakota and shows her collection at the newly remodeled Nambe Trading Post.
See more on her website: cathyasmith.com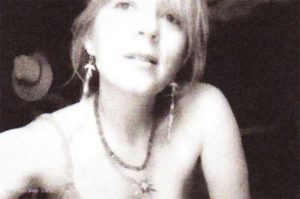 "All of my work has a creation story. A connection that bonds the work with the wearer. I feel I've done my best when the client has a connection with the soul of the work and unites it with their spirit and adventure.
In essence my work is about connection, myth and personal power. I refuse to create for the sake of 'eye candy' alone. The work must have meaning, myth and beauty or it has no real power. The world's best treasures have a good story attached. And like the natural world we live in, power is best expressed through beauty."
In keeping with this tradition and true to its name, "Jewelry for the Soulful" – Jennifer Jesse Smith's jewelry collection is an uncompromising expression of spirit, art and passion. Fashioned to be felt; not just worn.
At the age of seven, while backpacking through Europe with her mother in search of rare Venetian trade-beads, Jennifer spied her first punk rockers and was taken by their personal expression. Later that afternoon, at the Louvre, standing in front of a painting by Michelangelo, she announced that she was going to be an artist.
She then went on to ground her talent even as she was pushing it to new heights, earning a BFA in Sculpture from on of the most rigorous art schools in the country: The School of the Art Institute of Chicago. Her adventures led her to the motion picture biz where she designed medicine warrior talismans outfitting more than two hundred warriors.
The juxtaposition of these two sensibilities, the classical and the post-modern, has been Jennifer's metier ever since. Her passion, attention to detail, and the originality of her adornments have attracted a wide following. Actors Colin Farrell, Johnny Depp, David Tennant and Billy Bob Thornton all own original designs by Ms. Smith as well as Comedian Margaret Cho. Even TNB's own Rich Ferguson wears her designs in his latest spoken word video.
Inspired by indigenous metal-smithing techniques from around the world, Jennifer combines her love of sculpture, silver-smithing and the elegance and edginess of rock-and-roll fashion with the best stones and finest metals to create original, balanced, wearable art that invoke a sacred connection and collaboration with the wearer. Jennifer Jesse Smith designs pieces of power, passion and beauty for those with enough mojo to wear them.